Reko LTD
About us

REKO Ltd was established as of 1.1.1992 as a private company for manufacturing the falt drive belts and belt conveyors. At the same time, the exclusive cooperation was set up with Chiorino, Italian company, which is represented by Reko on the Czech and Slovak markets. Later on was privatized the technic part of leatherworks, which was established by Mr. Policky yet in the second half of 19th century. At present, the REKO Ltd is staffed with 40 employees in keeping up at long term its place on the domestic and foreign markets due to a quality of its products and comprehensiveness of rendered services.
Staring from the year 2000, Reko Ltd is the holder of the CSN EN ISO 9001 :2015 Quality Management Certificate.
Our company fulfills its slogan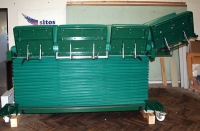 Our company fulfills its slogan "We are the solution", this time found a solution for specific operating tables for the horse, which will serve the whole of Europe!



Unique Elevator belts certified as "CZECH PRODUCT" support Czech products - check yourself for the QUALITY!
read more